This is a list of the WEB SERIES/MUSIC VIDEOS screening at 2019 LA FEMME INTERNATIONAL FILM FESTIVAL
The web and music videos are FINALISTS in this category. A winner will be selected at the Awards Ceremony.
Location: Regal Cinemas 14 at LA LIVE 1000 W Olympic Blvd Los Angeles, CA 90015
Venue 1- Auditorium 13
Venue 2- Auditorium 14
MUSIC VIDEOS
2nite 2nite 
OCT. 17th, 2:00 – 6:00 pm
VENUE 1
DIRECTOR
ANGELA ALVARADO
RT: 4
SYNOPSIS: 2Nite 2Nite is a celebration of life after the devastating events that followed Hurricane Maria on the island of Puerto Rico. Draco calls on everyone to revel with him because ' this is not a crisis, it's a liberation'.
LOST
OCT. 18th, 12:05 – 2:00 pm
Venue 1
DIRECTOR
MADELINE KATE KANN
PRODUCER
ANNA HEINRICH
JESY ODIO
WRITER
RT: 4
CAST: Clara Mae, Sam Morgan
SYNOPSIS: In this music video for Clara Mae's "Lost", directed by Madeline Kann, she deals with the relatable feelings of going back and forth with her lover.  
LOVE ME SO MUCH
OCT. 17th, 2:00 – 4:00 pm
VENUE 2
DIRECTOR
HEIDI HORNBACHER
PRODUCER/WRITER
MATT RICHARDSON (music)
PERSEPHONE GODWIN (music and lyrics)
PRODUCER
STEVE POSTELL
WRITER
TRACY RICHARDSON (story by)
RT: 5
CAST: Persephone Godwin
SYNOPSIS: A space traveler heading to a galaxy called "Far Away" picks up a Love SOS radio frequency from another galaxy. Upon identifying her location he sends back a signal for her to enter a space portal. The 2 drive off into the many setting suns of space and live happily ever after.
SAU SAU
OCT. 17th, 12:00 – 2:00 pm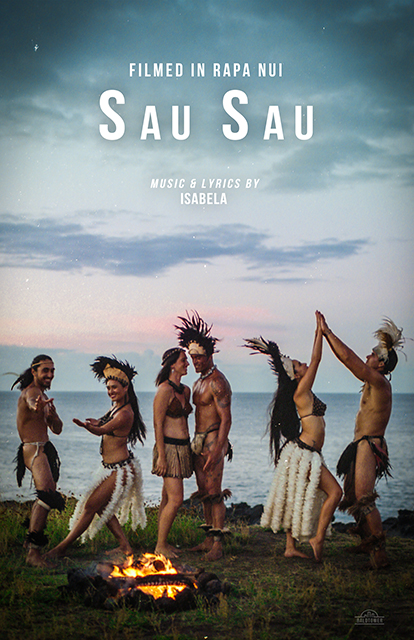 VENUE 2
DIRECTOR/PRODUCER/WRITER
ISABEL CUSTER
RT: 3
CAST: Isabel Custer
SYNOPSIS: A Latin American woman visits Easter Island, learns the traditional courtship dance and falls in love with the island, the culture and its people.
SHAKE IT UP
OCT. 17th, 10:00 – 12:00 noon
VENUE 1
DIRECTOR/PRODUCER/WRITER
JENN PAGE
PRODUCER/WRITER
CHRIS EDGAR
PRODUCER
ANGIE POLLEMA
MALIA MIGLINO
CASEY ELLINGS
RT: 3
CAST: Andre Myers, Lindsay Zana, Nick Conroy, Harleen Silva
SYNOPSIS: A musical number all about all kinds of people coming together to create change and to make the world a happier place.
WEB SERIES
CHEER UP, CHARLIE
OCT. 19th, 10:00 – 12:00 noon
VENUE 2
DIRECTOR
CARMEN LOBUE
PRODUCER
KARA GRACE MILLER
MONICA ARSENAULT
GABRIELLE ADKINS
EHSAN ALI
MAHIMA SAIGAL
WRITER
KARA GRACE MILLER
ANTHONY HOLIDAY
RT: 10
CAST: Kara Grace Miller, Mary McCann, Daniel Davila Jr., Abby Lindsay
SYNOPSIS: A bright-eyed 20-year-old puts her dream on hold to pay her family's medical bills in the fastest way she knows how; dealing drugs.
THE INFLUENCERS 
OCT. 19th, 10:00 – 12:00 noon
VENUE 2
DIRECTOR
KATIE BURRIS
PRODUCER/WRITER
DESIREE STAPLES
ALLY KORNFELD
PRODUCER
RACHEL GREENWALD
RUDI SILVA
WRITER
RACHAEL MASON
RT: 9
CAST: Daniel Floren, Desiree Staples, Chris Ruetten, Rachel Greenwall
SYNOPSIS: In her quest to become a high powered Hollywood agent, a young woman ends up working at a small-time agency where she's forced to manage a bunch of "Influencers" and crazy YouTube stars… not all of them are cats.
ONE TRUE LOVES
OCT. 18TH, 2:00 – 4:00
VENUE 1
DIRECTOR/WRITER
OLIVIA ACCARDO
PRODUCER
ANDREA MASSARO
WILL MASON
KRISTEN POLITIS
COREY VENT
RT: 5
CAST:  Maddie Rien, Olivia Accardo
SYNOPSIS: Between her tweenhood and late twenties, Lydia meets eight different loves of her life and discovers what it means to fall in and out of true love eight times.
SWITCH
OCT. 17th, 4:00 – 6:00 pm
VENUE 2
DIRECTOR/PRODUCER/WRITER
STAVROULA TOSKA
DIRECTOR/PRODUCER
KATIE MAGUIRE
DIRECTOR
CADY MCCLAIN
LAURIE WELTZ
RT: 25
CAST: Olympia Dukakis, Cady McClain, India Ennenga, Jon Lindstrom
SYNOPSIS: Based on the true life story of creator Stavroula Toska, SWITCH follows Stella, a woman who begins working as a dominatrix at The Temp, Manhattan's upscale BDSM establishment, as a way of making ends meet.
WHORE: TABLE #6
OCT. 19th, 4:00 – 6:00 pm
VENUE 1
DIRECTOR/PRODUCER
NINO MANCUSO 
WRITER
HELEN KENNEDY
RT: 6
CAST: Helen Kennedy
SYNOPSIS: Eternally optimistic British actress Harriet has yet to find her feet in LA, despite a handful of minor TV roles. But today, her agent has a special project…