LA Femme International Film Festival
2014 Features
A REASON

OCT 19, 2-4 PM
VENUE 1
DIRECTOR
DOMINIQUE SCHILLING
PRODUCERS
CAROLINE RISBERG, CHRIS TITZER, CORINA FORTMANN
WRITER
DOMINIQUE SCHILLING
RT: 112MIN
CAST: Magda Apanowicz, Marion Ross, Nick Eversman
SYNOPSIS: Serena, a young gay introvert and her controlling older brother Nathan, are forced to endure a dreaded family gathering at the house of their wealthy Aunt Irene to hear the reading of her will – setting off an unexpected course of events that ultimately forces the clan to reevaluate their views on love, forgiveness, and family.
A SOFT SENSE OF CINNAMON/UN SUAVE OLOR A CANELA
OCT 16, 2-4 PM

VENUE 1
DIRECTOR
GIOVANNA RIBES
PRODUCER
GIOVANNA RIBES, PALOMA MORA
WRITER
GIOVANNA RIBES
RT: 94MIN
CAST: Mireia Pérez, Paulo Pires, Juan Mandli, Ariel Castro, Mar Mandli
SYNOPSIS: Valia is a young woman used to observe the others as part of her work and so reality for her is becoming a canvas where characters live out a kind of life. Guido is her antithesis perfectly adapted to daily life and conscious of his own social dimension.
AMERICAN GIRL

OCT 18, 2-4 PM
VENUE 1
DIRECTOR
AMY CAMPIONE
PRODUCERS
AMY CAMPIONE, DANIELLE HANSON, GLITTER ROSE
WRITER
TOM CUDWORTH
RT: 82MIN
CAST: Amanda Tovah Rose, Amy Campione, Matt Magnusson, Nick Apostolides
SYNOPSIS: When a young woman trapped in a toxic relationship accidentally leaves her on-line profile open in public, a handsome stranger decides to find her and seduce her. What he did not plan on was falling in love with her. As the two get closer, neither could ever imagine how far the ripples of their romance could reach or the damage it could do.
BITTERSWEET MONDAY

OCT 17, 2-4PM
VENUE 1
DIRECTOR
JAIME LEE
PRODUCER
DAVID PARK
WRITER
JAIME LEE
RT: 88MIN
CAST: Jaime Lee, Philipp Wolter
SYNOPSIS: An emotional goodbye between longtime best friends begins an unexpected love affair, putting two marriages and many friendships at stake.
GREENCARD WARRIORS
OCT 17, 6-8 PM

VENUE 1
DIRECTOR
MIRIAM KRUISHOOP
PRODUCER
JULIAN CAUTHERLEY, BRONWYN CORNELIUS, MIRIAM KRUISHOOP
WRITER
MIRIAM KRUISHOOP
RT: 90MIN
CAST: Manny Perez, Vivica A. Fox, Angel Amaral
SYNOPSIS: The tragic struggle of an undocumented Latino family in Los Angeles after they have sent their eldest son to war.
JANIE CHARISMATIC

OCT 17, 4-6 PM
VENUE 1
DIRECTOR
ILA DUNCAN
PRODUCER
WOODSON DUNCAN
WRITER
LAURA SCHEINER, ILA DUNCAN
RT: 101min
CAST: Anthony Marks, Josie Smith, Eric Roberts
SYNOPSIS: A trip into the mind of down-and-out rock star, Janie. Having alienated everyone she knows, Janie is forced to take a boring job in a finance office where she meets Kevin, an ex-surfer who finds Janie's prickly personality intriguing. As their relationship escalates out of control, somebody is bound to get hurt.
KAJARYA

OCT 16, 10 AM-12 PM
VENUE 1
DIRECTOR
MADHUREETA ANAND
PRODUCER
QUASHIK MUKHERJEE, CELINE LOOP, TANAJI DASGUPTA
WRITER
MADHUREETA ANAND
RT: 108MIN
CAST: Kuldeep Ruhil, Meenu Hooda, Ridhima Sud
SYNOPSIS: Set in New Delhi, with its shining buildings and apparent cosmopolitan veneer, which thinly veils an underbelly of crimes against women and corruption at all levels. And just 80 away is a small village; home to Kajarya, a woman who has a strange but important place in the village social structure; she murders unwanted girl infants in the garb of religion. Meera is a rookie reporter, who breezes into the village and is fed the story of Kajarya being a demonic baby killer
LEAVING LIMBO

OCT 18, 10 AM – 12 PM
VENUE 1
DIRECTOR
SANDY BOIKIAN
PRODUCER
LISA BOORE LAMBERT, SANDY BOIKIAN
WRITER
SANDY BOIKIAN
RT: 94MIN
CAST: Elias Cecil, Mandy Brown
SYNOPSIS: Monica Wyatt is a totally '80s teenager on the brink of a bright future when her dreams are destroyed by a car wreck that leaves her in a coma for 19 years. After miraculously awakening at age 38, Monica finds her once-perfect life in shambles and an unrecognizable world around her. As she struggles to fit into a world of Starbucks and cell phones, she attempts to win back the love of her life. In the process, she experiences a true wake-up call.
MARY LOSS OF SOUL

OCT 17, 10 AM – 12 PM
VENUE 1
DIRECTOR
JENNIFER B. WHITE
PRODUCER
STEWART HUEY
WRITER
JENNIFER B. WHITE
RT: 90MIN
CAST: Anne Bex, Catherine Black, Diana Porter, Emma Gruttadauria, José Zúñiga, Kaylee Bryant, Sam Myerson
SYNOPSIS: After vanishing from her family's lake house, 15 year-old Mary Solis returns without any memory of the traumatic events she experienced, and without part of her soul. Even while a shocking mystery surrounds her disappearance, and her disembodied soul begins a grim haunting, the Solis family's biggest fear is watching Mary's true spirit wither away.
MOVING MOUNTAINS

OCT 19, 10AM – 12 PM
VENUE 1
DIRECTOR
JEANIE CLARK
PRODUCER
PAUL DINH-MCCRILLIS, PENNY LOEB
WRITER
PENNY LOEB
RT: 100MIN
CAST: Theresa Russell, Austin Jetton, Greg Harpold, Michael Alban, Michael Meredith, Rachel St.Gelais, Rick Roberts, Scott Carpenter, T. Paige Dalporto, Taylor Horst, Tina Larson, Tina Alexis Allen
SYNOPSIS: A true story of courage and overcoming obstacles. Trish Bragg faced up to powerful coal and government interests to save the community and people she loved. Fortified by faith, poetry and humor, she emerged with victory, but not the expected.
MY NAME IS VIVIENNE
OCT 19, 4-5:30 PM
VENUE 1
DIRECTOR
MARJORIE COHEN
PRODUCER
JEREMY PATERSON, MARJORIE COHEN
WRITER
JEREMY PATERSON
RT: 94MIN
CAST: N/A
SYNOPSIS: A flailing Hollywood actress is kicked out of her sugar-daddy's mansion and forced to team up with a struggling colleague and a loyal unpaid intern, who both help her fight to reattain her previous fame.
ODD BRODSKY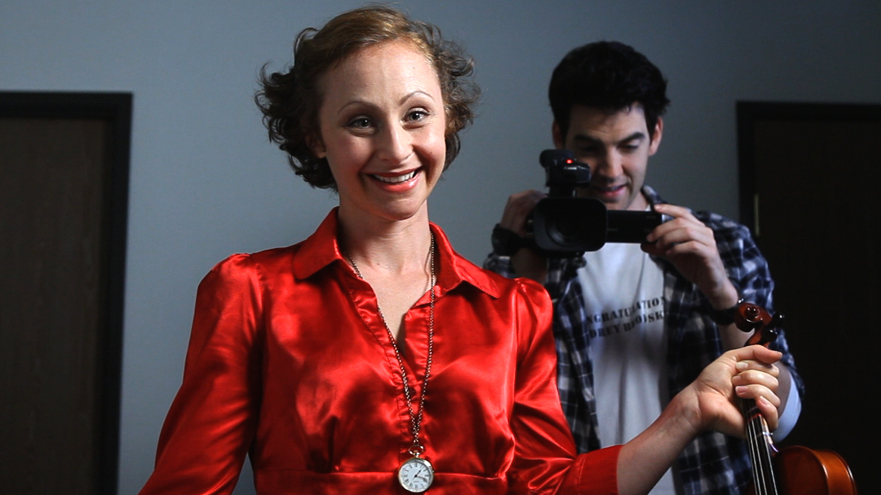 OCT 16, 12-2 PM
VENUE 1
DIRECTOR
CINDY BAER
PRODUCER
CINDY BAER, THOMAI HATSIOS
WRITER
MATTHEW IRVING, CINDY BAER
RT: 93MIN
CAST: Tegan Ashon Cohan, Mathew Kevin Anderson, Scotty Dickert, Cindy Baer, Elana Krausz, Christine Moses, Leigh Forrest, John Alton, Jesse Meriwether, Jim Hanks, Ilana Klusky
SYNOPSIS: Audrey Brodsky is a lovable loser who hates her job. After 11 years she quits and sets off to pursue her childhood dream of being and actress! There's just one problem: she's not very good at it.
REDEMPTION TRAIL 

OCT 18, 12-2 PM
VENUE 1
DIRECTOR
BRITTA SJOGREN
PRODUCER
BRITTA SJOGREN, SOUMYAA KAPIL-BEHRENS
WRITER
BRITTA SJOGREN
RT: 91MIN
CAST: Lily Rabe, Lisa Gay Hamilton, Jake Weber
SYNOPSIS: A contemporary Western about two powerful, yet deeply troubled women — refugees from political and personal trauma — who have both chosen to flee a past that haunts them.
THE PARK BENCH
OCT 18, 4-6 PM
VENUE 1
DIRECTOR
ANN LESCHANDER
PRODUCER
ANGEL THOMPSON, ANN LESCHANDER
WRITER
ANN LESCHANDER
RT: 78MIN
CAST: Nicole Hayden, Walter Perez, Beau Bonness, Brian Mulligan, Dustin Fitzsimons, John Prosky, Stella Maeve
SYNOPSIS: When Emily, a neurotic librarian, is assigned to tutor Mateo, a puckish undergrad, in American Lit, they do not get along. But when the discussion turns from classics to confessions, they learn something that could change their lives forever.
THRU THE WOODS 

OCT 16, 4-6 PM
VENUE 1
DIRECTOR, PRODUCER, WRITER
P.R. TOOKE
RT: 88MIN
CAST: Kelly Venn, Steve Coker, Andrew Toulouse, Ileana Herrin
SYNOPSIS: What would you do if the man who ruined your life, smashed your dreams, derailed your career, and chased you out of the city showed up in the middle of the night at your secluded cabin in the woods, in the middle of a horrific snow storm, half frozen to death?
UNTOLD (WP)

OCT 19, 12-2 PM
VENUE 1
DIRECTOR
GINA M. GARCIA
PRODUCER
GINA M. GARCIA, GINA GOFF, MARTHA MARINARA
WRITER
GINA M. GARCIA
RT: 94MIN
CAST: Terri Ivens, Carlos Gomez, Dale Raoul, Debra Wilson, Gloria Alred, Jason London
SYNOPSIS: When a successful entrepreneur wakes up to being a victim of a hate crime, she begins to have startling recollection of her childhood stranger abduction, which her family denies. Based on a true story.
WE ARE LIKE ORANGES

OCT 17, 12-2 PM
VENUE 1
DIRECTOR
JOACHIM LJUNGQUIST, CECILIA GÄRDING
PRODUCER
CECILIA GÄRDING, MIKAEL HAINES GÄRDING
WRITER
CECILIA GÄRDING
RT: 90MIN
CAST: Jesper Eriksson, Ulrika Skarby, Ludvig Jakobsson, Emil Lindberg, Kari Berg, Tim Tjernlund, Samuel Jarrick
SYNOPSIS: Josef a young Afro-Swede is secondary high school moves between two worlds, one dream world and one reality; as he travels in time he meets some of the people who contributed to the perception of racism in Sweden.