Columbia College Presents: INTEGRATING YOUR BRAND INTO A WEBSERIES/SHORT TO LAUNCH YOUR CAREER
Panel 1: SATURDAY OCTOBER 13, 11am-1pm
Venue: LA Live – Regal: 1000 West Olympic BLVD., Los Angeles 90015 (3rd Fl-screening room)
This panel will explore the real methods used to get your brand and use your style to attract the talent the attention to make this a career launch. Columbia College is presenting this expert panel. Q&A to follow.
Denise Carlson (Moderator)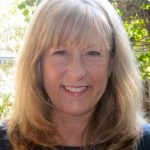 Denise Carlson is a producer and development executive with 20 years of experience in the entertainment industry. Under her D'veloping Pictures banner Denise made the movie BAD HAIR DAY, which premiered on Disney Channel in February of 2015.  She is currently developing CROSSING THE SAGAMORE, WAKE UP LITTLE SUSIE, and WEDDING'S EVE, among others. She is also developing the series UNCHAINED with Ted Kotcheff.
Denise was at Disney Channel for nine years as the Director of Original Movies, responsible for overseeing the development and production of 47 television movies, including the megahit HIGH SCHOOL MUSICAL, as well as other highly successful films such as WENDY WU and THE CHEETAH GIRLS movies.
Currently Denise also teaches producing at the New York Film Academy's Los Angeles campus, and she is proud to be a member of the LA Femme board.
Caytha Jentis
Caytha is a successful independent comedy writer/producer who started filmmaking in between driving carpools in suburbia as a mother of two.  She has written and produced features that include: "Bad Parents" starring Janeane Garofalo, Cheri Oteri & Christopher Titus (Cinedign/Relatively) that will play on HBO in 2019,  "And Then Came Love" starring Vanessa Williams, Eartha Kitt & Anna Camp (Warner Bros) and "The One" (TLA Releasing). She has also written an award winning stage play "It's All About the Kids", as well as a short form scripted series "The Other F Word" that features Judy Gold, Steve Guttenberg and Gilbert Gottfried.
Of note, her writing journey has been chronicled in Script Magazine, The Writers Guild and Women and Hollywood. Â She has appeared on many panels and podcasts including the prestigious MA Conference for Women. She is a member of WGAE, PGA and NYWIFT and recently produced a sold out comedy show.
Caytha has an MFA in Screenwriting from UCLA and a BS in TV/Film from Syracuse University. She began her career as a literary agent in New York.or/Executive Producer
Paula Rhodes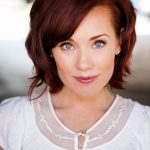 Paula Rhodes is an actor, producer, creator of two tiny humans, and founding member of the 5'2″ & Under Club. She counts among her best diary entries creating an award-winning fan trailer for ElfQuest that garnered the film/TV rights to the comics, getting to embody some of her other fandoms as Wendy in The New Adventures of Peter & Wendy, Lady Door in the West Coast premiere of Neil Gaiman's Neverwhere, Zelda in Knights in Hyrule (Machinima), and Skipper & Stacie in Barbie: Life in the Dreamhouse. She's hoping to continue to grow her collection. See her recent work in The Last Tycoon, Disney's Bunk'd, Amazon's The Kicks, Doc McStuffins, Resident Evil 7, and multiple commercials. Follow her adventures on twitter @paula_rhodes and at OfficialPaulaRhodes.com.
Jenni Powell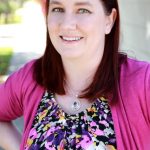 Jenni Powell is the Emmy Award-winning producer of The Lizzie Bennet Diaries, Welcome to Sanditon, lonelygirl15, Emma Approved and The New Adventures of Peter and Wendy. For two years she was Director of Content and Social Media for VidCon and was a producer at Felicia Day's YouTube Premium Channel Geek & Sundry, where she produced the Geekie Award-Winning Talkin' Comics Weekly. Most recently, she was Head of Production for NewMediaRockstars before co-founding Discourse Productions, a boutique production company specializing in digital media content and events. She is also a Faculty member of the New York Film Academy where she teaches Story Generation, New Media, Transmedia, and more.
Michelle Sam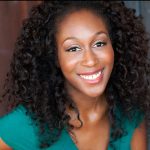 Michelle Sam is a writer, British trained actress, and award winning filmmaker. She is the daughter of Ghanaian immigrants and has split her time up between England, Ireland, and various U.S. states before studying Acting at Gaiety School of Acting in Ireland, Sociology and Theatre at Rice University in Houston,Texas, and acting conservatory in the UK, then moving to Los Angeles to pursue a writing and performance career.
Michelle was recently named a Notable Writer from New York Television Festival for her pilot AFRICAN BLACK SHEEP. Â African Black Sheep was named one of the top 50 scripts of WeScreenplay Diverse Voices, and she received a grant to write, act in, and direct the project as a web series and proof of concept.
Her short film that she wrote and directed, MISSED CONNECTIONS, starring and executive produced by Angelica Ross (seen most recently in Ryan Murphy's POSE on FX) and sponsored by GLAAD Transgender Media Equality Program premiered at Outfest last year. It has since gotten into over 20 film festivals worldwide and landed several distribution deals. The film centers around a transgender love story. Her short film also was awarded "Best Trans United States Short Film" by North Carolina Gay and Lesbian film festival.
Her feature script, SANKOFA, was selected for Outfest Screenwriting Lab this year. She was also recently selected for Berlinale Talents, an incubator through Berlin International Film Festival. She is also an alum of Hillman Grad Network, a writing group created by Lena Waithe to support up and coming content creators in Film and TV.
In addition to writing, Michelle is part of Women of Color Anonymous, a comedy collective that performs at Upright Citizens Brigade and Tao Comedy, and is also an alum of Second City Chicago Training Center and iO Chicago. Â