Ava Cantrell- Rising Star Award 2017
Ava Cantr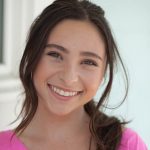 ell is insightful, hardworking and a truly caring young actress is how Ava Cantrell is described. She dives into all roles with passion and clarity as well as a willingness to let it all out on the table. Ava has that rare gift of crossing between comedic, thriller and dramatic characters. She began her acting career in 2008. She has appeared in many TV commercials, music videos, short films, Television, and feature films.
Ava gained notoriety as Penelope Pritchard on the Nickelodeon series Haunted Hathaways. In 2013 she won a Young Artist award for her performance in this recurring role. She played Penelope Pritchard with
gusto. Nickelodeon paired her in later episodes with a Butler allowing her to embody a character so spoiled and bratty that it solidified her as the shows greatest nemesis. She still remains one of Nickelodeons most loved Villains on the Nick.com site.
Ava was always lighting up the stage from the time she was in Kindergarten. She loved dancing, performing and hamming it up in front of the camera. She played the lead role of Brooklyn in
the 2015 web-series Cam Girls the Series which has won numerous awards. Ava was cast as Teen Diana
in the Warner Brothers, New Line Cinema feature film Lights Out in 2015. She was shortly after cast as
the lead in the the feature film One Under the Sun that released March 2017. One Under the Sun shows a very dramatic side of Ava, as she plays the daughter of an astronaut in a loosing battle with cancer.
Ava is also an award winning dancer competing between 2007-2014 in the styles of Ballet, Tap, Contemporary, and musical theater. These performances can be seen on her YouTube channel Miss Ava Cantrell. Ava is an excellent student, maintaining National honor role and a 4.4 GPA. She has a love of animals and lends her time to numerous charities. She still finds moments for surfing, photography and Archery.