LA FEMME Honoree Devika Bhise will receive the Rising Star Award on October 20th at the Awards Show
1139 S Hill St. Los Angeles CA 90015 (parking 12th/Hill)
Show at 7pm (red carpet at 6pm)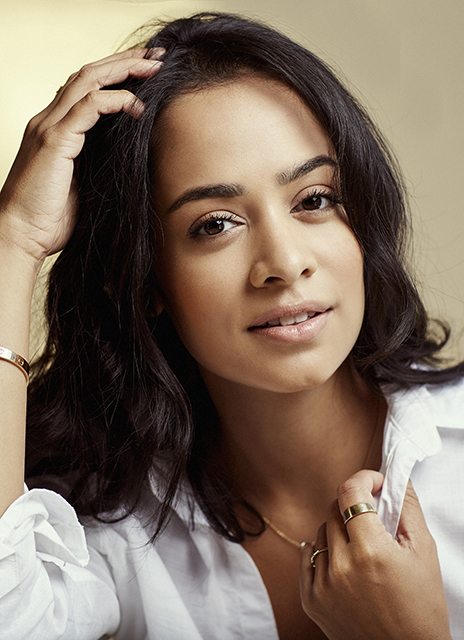 A talented actress, writer, dancer and jazz vocalist, Devika Bhise continues to hone her skills and captivate audiences. Devika will next star as the lead in THE WARRIOR QUEEN OF JHANSI for Roadside Attractions. Based on the incredible true-life story of Rani Lakshmibai, the film chronicles the life of the infamous freedom fighter and feminist icon who, as a 24-year-old military commander in 1857 India, ignited the flame of India's independence by raising the first female cavalry and leading a battle against the ruthless East India Company. Devika co-wrote the screenplay alongside her mother, Swati Bhise, who also directed and produced under her Cayenne Pepper Productions banner. The film premiered at the Vancouver International Women in Film Festival, and is set to be released on November 15, 2019.
Devika has acted opposite Dev Patel in Matt Brown's THE MAN WHO KNEW INFINITY, also starring Jeremy Irons, Stephen Fry, and Toby Jones. Based on the book by Robert Kanigel, Devika plays 'Janaki', the wife of genius mathematician Srinivasa Ramanujan, who overcame extraordinary odds to become a pioneer of mathematical theories, despite having no formal training. The film premiered at the 2015 Toronto International Film Festival, and was released by IFC in April 2016.
Next year, Devika will be seen in Linda G. Mills', THE REST OF US, based on a diverse group of college students who confront the reality of a suicide contagion on campus in the aftermath of 9/11. Her other film credits include Nathan Catucci's thriller, IMPOSSIBLE MONSTERS; the multi-collaborative drama MOSAIC, opposite Arliss Howard and Ronald Peet; and Griffin Dunne's romantic comedy, THE ACCIDENTAL HUSBAND alongside Uma Thurman, Collin Firth, and Jeffrey Dean Morgan.
On television, Devika was seen in the Samantha Bee and Jason Jones' TBS series, THE DETOUR; Nicholas J. Coleman's STEPDORK; and two episodes of the CBS crime drama series, ELEMENTARY, alongside Johnny Lee Miller.
On stage, Devika has appeared in numerous theatrical productions including Partial Comfort's off- Broadway play And Miles To Go where she starred as "Tiffani Ribello." Prior to this, she starred in a production of The Partition by Ira Hauptman as a student at Johns Hopkins University. The play, based on Robert Kanigel's book The Man Who Knew Infinity, contributed to her achieving the role as Ramanujan's wife in the 2015 movie adaption.
In 2018, Devika also acted in the Sundance Director's Lab.
Devika attended Johns Hopkins University, where she was awarded the Hodson Trust Scholarship and the Woodrow Wilson Fellowship under the mentorship of the award-winning actor, John Astin. As a Woodrow Wilson Fellow, she brought the nearly extinct UNESCO heritage art form, Kudiyattam, to the United States for the first time.
At just eighteen years old, Devika directed and produced a documentary short film titled HIJRAS: THE THIRD GENDER, which won the award for Best Social Documentary at the New York Independent Film and Video Festival.
Her interest in this vein of social activism led to her being chosen as 100 of "New York's New Abolitionists," advocating against human trafficking in New York City along with other influential New Yorkers including Tina Fey, Seth Meyers, Christie Brinkley, Lee Daniels, Diane von Furstenberg, and Gloria Steinem, among many others.
In addition to her many accomplishments, Devika has been studying the oldest form of Indian Classical Dance, Bharatanatyam, for over 15 years. She has performed as a soloist at numerous venues in New York including Lincoln Center, Asia Society, Symphony Space, and Danny Kaye Playhouse. Devika is also a talented jazz vocalist and has performed solo jazz concerts as an invited artist for fundraisers at The Plaza Hotel, Essex House, Select City Walk in New Delhi, and The Goa Literary Festival.
Born and raised in New York City, Devika attended The Brearley School, an all-girls private school in Manhattan, where she gained experience acting in many plays and musicals. Her training includes Terry Schreiber Conservatory, The Barrow Group, Kimball Studio, Peabody Conservatory, and Brown University Acting Program.