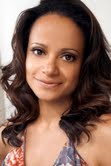 Judy Reyes, born to Dominican parents, is triple threat (singer/dancer/actor) and grew in the Bronx as a first generation American. A life changing performance at her Church, Reyes enrolled in theatre at Hunter College in Manhattan and landed her first major acting role in the independent feature film "Jack and his Friend", opposite Sam Rockwell.
Reyes currently stars in ABC Studios/Lifetime's Marc Cherry produced drama "Devious Maids" is best known for her role as the sassy, no-nonsense nurse Carla Espinosa on "Scrubs" (17 EmmyÒ nominations and Peabody Award for, "My Way Home")
Reyes film credits include "Dirty", opposite Cuba Gooding, Jr.; "Went to Coney Island on a Mission From God"; "Be Back at Five", with Jon Cryer and "King of the Jungle", alongside John Leguizamo and Rosie Perez, starred in the Lifetime Movie Network Original Movie, "Little Girl Lost: The Delimar Vera Story", reoccurred as Tina on the acclaimed HBO series "Oz" and has appeared in "The Sopranos", "Third Watch", "NYPD Blue" and "Law & Order". Reyes starred in and Produced the independent film "Glow Ropes: The Rise and Fall of a Bar Mitzvah Emcee", directed by George Valencia, which won "Best Film" at the 2005 HBO New York Latino Film Festival.
Reyes award nominations include Alma Award for "Outstanding Actress in a Television Series" (2006), National Hispanic Media Coalition Impact Award for "Outstanding Performance in a Comedy Television Series" (2007) and nominated for an Imagen Award for her work in "Gun Hill Road" alongside actor Esai Morales.
She was a founding member and performed with the Labyrinth Theater Company (New York), a multicultural acting space with Philip Seymour Hoffman, Sam Rockwell, John Ortiz and Lauren Velez.