Congratulations to our honoree Patricia Velasquez
LA Femme 2015 Humanitarian Award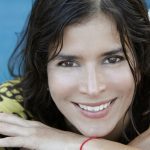 Biography
Patricia Velasquez is constantly in motion. Her international career runs the gamut from modeling, acting and producing to being a successful beauty products entrepreneur, published author and passionate activist for Latino causes.
Acting Career
Velasquez has appeared in foreign films such as such as "Le Jaguar," and "Zapata." However, she is best known for her role as Ank Su Namun in "The Mummy" and "The Mummy Returns." Velasquez was critically acclaimed for her debut stage performance in the lead role of "School of the Americas" at the Public Theater in New York City. The play was produced by Philip Seymour Hoffman and written by Jose Rivera.
Velasquez has appeared on many popular television shows including "American Family," "CSI: Miami," and "Arrested Development." As a result of her high-profile life as a celebrity-activist, Velasquez was a guest on the Oprah Winfrey Show, a frequent judge at Ford Models' Supermodel of the World contest and is frequently featured in main stream media as a Latina celebrity. For a complete listing of her credits, visit Filmography.
Modeling Career
In spite of being born into poverty in Venezuela, Velasquez triumphantly climbed to the top of the fashion world. She is considered by many to be the first Latina Supermodel and has been a runway star for top haute couture design houses like Chanel, Gucci, Versace, Dolce & Gabbana and Carolina Herrera. As a sought-after supermodel, Velasquez' exotic features have adorned the covers of Vogue, Bazaar, Marie Claire and other international fashion magazines.
She was one of an elite group of models chosen for several issues of Sports Illustrated's iconic swimsuit edition and was also a Victoria's Secret model. For years, Velasquez was the familiar face of Cover Girl Cosmetics' advertising campaigns. Additionally, she was featured in ads for Allure, Pantene and New York & Co.
Film Producer
Velasquez' first experience in film production was as executive producer of "Cenizas Eternas," an independent film in which she also played the lead role. Most recently, Velasquez was the associate producer and lead actor in "Liz in September," a film directed by acclaimed director Fina Torres. The film is currently in theaters in Venezuela. As an actor and producer, Velasquez is constantly working on interesting and challenging new projects.
Published Author
In her new autobiography, "Straight Walk: A Supermodel's Journey to Finding her Truth," Velasquez recalls her triumphant journey from poverty to international acclaim. In this intimate and inspiring memoir, she courageously reveals her personal truth.
Award-winning Activist
As an Artist for Peace, Velasquez is a celebrity advocate for UNESCO. She received the "Women Together" award at the United Nations in 2009 and the Solidarity Award in November 2010.
Successful Entrepreneur
In 2011 Velásquez successfully helped launch Taya Beauty, an organic line of beauty products, on the Home Shopping Network. Created from the super-botanicals of the rainforest, Taya Beauty skincare and hair care products are grown in environmentally sustainable programs in South American indigenous communities. Taya Beauty is now sold all over the world through HSN, QVC and Shopping Channels. www.tayabeauty.com
Socially Conscious Activist
Concerned about the living conditions of Latin American indigenous groups like the Wayuu group in Venezuela, Velasquez founded Wayúu Taya Foundation, a nonprofit organization dedicated to educating the public and funding ways to improve conditions of Latin American indigenous groups, respecting their culture and belief. She competed on the television show "Celebrity Apprentice" on behalf of her foundation in 2012. www.wayuutaya.org